As your business grows, you have more things to manage. Central Bank offers a line of products that give you the power to securely and conveniently manage your funds online. Our online products give you more control and help with some of your daily tasks and you can have peace of mind knowing that our online banking system is encrypted with multiple layers of security so your transactions and account information remain safe.
Central Bank's online products can:
Save money and reduce accounting errors

Gain greater efficiency from your employees' time

Search for and sort account information

Review account balances and view statements

Determine your cash positions

Transfer funds and pay bills

Download transaction history to reconcile with other financial software programs

Issue stop payments

Make federal tax payments
When running a business, you're always busy. So take those banking errands off your list. With NetTeller Online banking, you can perform most banking transactions right from your desk, freeing up a bit of valuable time. It's conveniently available 24/7, so you can use it after hours, on weekends, or while traveling for business. All you need is internet access. It's safe, secure, and free!
Fast, free, and easy to use

Access accounts anytime, anywhere

Check balances, transfer funds, and more

Get up-to-date account and loan information

Download to financial software

Securely encrypted

Print paper statements or check copies

Access to our Online Bill Payment program
i-PAY Online Bill Payment
Forget about writing checks, looking for stamps, or making extra trips to the post office. Central Bank makes it easy for you to pay your bills electronically from one convenient website. This service is a faster, simpler, and more secure way to manage your monthly expenses. Enroll online today!
Free service for our business customers

Pay almost any person or company in the U.S.

Set up current, future, or recurring payments

Receive your bills electronically

Access through our Commercial Online Banking

Dual control capabilities for added security

Add invoice information and credit memos

Download into Microsoft® Money or Quicken™
Sign up for e-Statements and receive a monthly email notifying you that e-Statements are ready to be viewed safely and securely within online banking. Then simply log in to online banking to view your account information at your convenience. Help us cut down on the amount of paper that must be shredded and landfilled. We'll store up to a year's worth of statements online so you only print what you need, including check images. Signing up takes just a few minutes!
Safe, secure, easy to read

Free alternative to paper statements

Avoid clutter and filing hassles

Help prevent identity theft

Save paper and resources

Quicker and safer than statements by mail

Access up to a year's past statements online

Download and/or print them if you need to with one click
Allows you to give specific access and segregate functionality to multiple users within your business with your internet banking and bill payment.
You can receive notification(s) about activity occurring on your account via email or at login.
Easy meets convenient. With mobile banking, you can use your phone to check account balances. Pay bills, view transactions, transfer money between your accounts, and find locations. Any time. Any place. Best of all, it's free.
Get Started:
Business Online Banking Customers from your PC you can start here: Log in

Your current Internet Banking and Password is all you need.     

After log in, go to "Settings" and select "Mobile Settings" and follow the steps.

To sign up on your mobile device, download our app: CentralBankFL

Apple, and the Apple logo, iPhone, iPod Touch, and iPad are trademarks of Apple Inc., registered in the U.S. and other countries. Android is a trademark of Google Inc. *Mobile carrier text and data charges may apply.
Follow the prompts to set yourself up.
If you are not a current Internet Banking Customer, contact
Customer Service
 to enroll.
Note:  Deposit Limits do apply.
Mobile Business Check Deposit
Save time and money with Mobile Business Check Deposit.
Click below for more information on our Mobile Business Check Deposit. 
Central Bank recognizes the ever-changing needs of small businesses. We understand that as a business owner you are important to the local community, help create jobs and make it a better place. You show that with good ideas along with hard work, innovation, and a strong work ethic- the American dream is still possible.
At Central Bank we offer a variety of business products and financing solutions that can meet the needs of your business. Our team will help you every step of the way. Whether you are a small business owner or a corporate executive, we have products and services to help you in your goal to create, build and deliver a growing and profitable business. We have assembled an experienced team that is ready and able to deliver their local market experience to assist in your personal and business needs. At Central Bank YOU are our most important priority. Building long-term relationships with you is our most important job. We promise to remain Focused on You!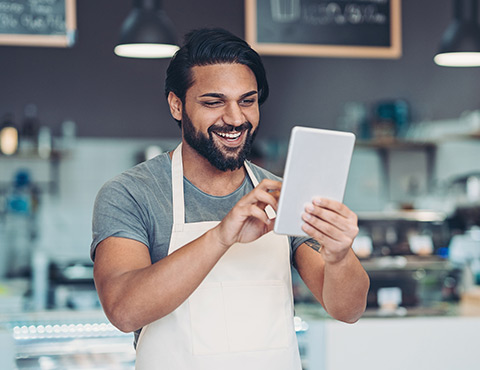 SBA Lending
Let's take that BIG first step! 
If you're ready to get started with your dream business, or you need cashflow, let us help!