Regardless of the size of your business, Central Bank has the answer for your checking needs. Choose from free accounts that earn competitive interest, to the powerful analysis checking for large businesses.
This powerful business account is designed to manage monthly cash flow needs for businesses conducting a limited number of routine banking transactions. Your business will save time and money, all with convenient benefits like no minimum balance, no transaction fees, and free online banking services.
Free business checking account

Ideal for businesses with more monthly transactions

No minimum balance

No monthly service fee

300 free items per month*

25¢ per item thereafter

Free Mastercard® Debit Card

Free online banking

Free eStatements

Free I-Pay Online Bill Pay available

Cash management services available      

$100 minimum deposit to open
Ready to switch to a Central Bank account?
*Items are credits, debits, and deposited items.
Free Business Interest Checking
For sole proprietorships, non-profit organizations, and government entities with a limited number of transactions, this free business checking account is exactly what you need.
It offers interest earned on your checking balance, plus 150 free items per month and a low fee per item afterwards. And it's loaded with free online banking conveniences!
Tiered interest bearing account

No minimum balance

No monthly service fee

150 items processed free each month

25¢ per item thereafter

Earn interest on collected balances over $1,000

Free NetTeller online banking
Free I-Pay Online Bill Payment available

Free e-Statements

Free mobile banking

Free Debit MasterCard®

$100 minimum deposit to open
Ready to switch to a Central Bank account?
Business analysis Checking
This business account is designed for companies with medium to high balances and consistent account activity. Excess funds can be used to offset fees through an earnings credit allowance, which is calculated automatically depending on balance.
Give your business the advantage it needs with this powerful and versatile account!
Designed for large business banking needs

Receive a monthly earnings credit based on balance*

$12.00 monthly service fee or $50.00 monthly for Central Connection

Per-item fees and charges based on account analysis:


Deposits and other credits, 20¢ per item

Checks paid and other debits, 20¢ per item

Deposited items, 20¢ per local item and 20¢ per non-local item


Earnings credit may offset or minimize fees

Integrated online and cash management services available

Streamlines accounting and reduces errors

$100 minimum deposit to open
Ready to switch to a Central Bank account?
*Earnings Credits earned on Collected Balances. It is NOT paid or credited to the Customer. Earnings Credit resets to "0" monthly.
Interest on Trust Account (IOTA)
The Florida Bar Foundation provides leadership and funding for legal aid in Florida. Central Bank offers IOTA accounts for attorneys who wish to participate in the IOTA program.
$100 minimum deposit to open account

$12 Monthly Maintenance Fee

$.25 per item activity fee
$25.00 IOTA handling fee
Central Bank recognizes the ever-changing needs of small businesses. We understand that as a business owner you are important to the local community, help create jobs and make it a better place. You show that with good ideas along with hard work, innovation, and a strong work ethic- the American dream is still possible.
At Central Bank we offer a variety of business products and financing solutions that can meet the needs of your business. Our team will help you every step of the way. Whether you are a small business owner or a corporate executive, we have products and services to help you in your goal to create, build and deliver a growing and profitable business. We have assembled an experienced team that is ready and able to deliver their local market experience to assist in your personal and business needs. At Central Bank YOU are our most important priority. Building long-term relationships with you is our most important job. We promise to remain Focused on You!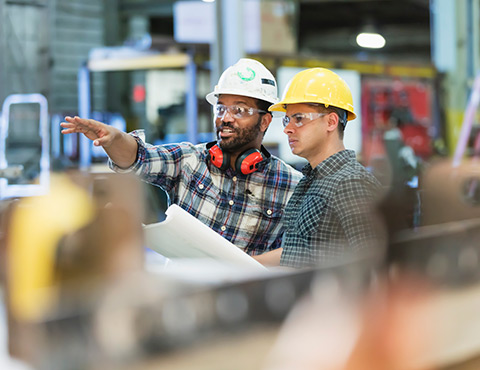 Business lending
We cover all the bases
We offer ag, construction, equipment lending and much more.