Business Savings
Build a safety net and increase your bottom line with one of our savings and investment accounts for businesses of any size.
Put your money to work by earning competitive interest. Central Bank's Business Savings helps you grow towards a solid financial foundation without losing access to the funds should you need them. This account also has time-saving conveniences like free online banking services, eStatements, and mobile banking. Talk to one of our business banking specialists today!
Earn competitive interest on collected balances over $500  

Access your account 24 hours at any ATM

Three withdrawals per month*

$3 per withdrawal after 3 per month, regardless of balance

$3.00 monthly service charge is waived on balances over $300

Free NetTeller online banking

Free eStatements

Free mobile banking

$100 minimum deposit to open
*Withdrawals include transactions at ATMs, teller lines, by telephone or other electronic means. Accounts may not exceed six (6) pre-authorized withdrawals per month. Pre-authorized withdrawals include transfers by Online Banking, deposit overdraft protection transfers, etc. None of the allowed six may be payments to third parties.
Ready to switch to a Central Bank account?
Business Money Market
Get the most of your investment. This high yield account pays a competitive tiered interest rate without tying up your money. With enhanced checking ability, you have access in case you need it. An opening deposit of $1,000 is all it takes to start earning market-level interest rates and enjoying many value-added features. Plus, the higher rates don't lock up your funds. In fact, you have greater access with direct check writing ability.
$1,000 minimum deposit to open account

Tiered interest rate structure. Interest is calculated and compounded daily on the collected balance and credited to your account monthly. $2,500 collected balance is required to earn interest. 

There is not a Balance Service Charge when you maintain a $2,000 minimum daily ledger balance or a $5,000 average monthly balance in your account. Otherwise there is a $12 monthly balance service charge.

$5 per transaction after six, as transaction limitations do apply*

FREE NetTeller Online Banking

FREE eStatements

FREE Mobile Banking
*Transactions at ATMs, teller lines or in person are not limited. Transactions by telephone or other electronic means or pre-authorized withdrawals are limited to six (6) per month. Pre-authorized withdrawals include transfers by NetTeller Online Banking, deposit overdraft protection transfers, etc.
Ready to switch to a Central Bank account?
Central Bank recognizes the ever-changing needs of small businesses. We understand that as a business owner you are important to the local community, help create jobs and make it a better place. You show that with good ideas along with hard work, innovation, and a strong work ethic- the American dream is still possible.

At Central Bank we offer a variety of business products and financing solutions that can meet the needs of your business. Our team will help you every step of the way. Whether you are a small business owner or a corporate executive, we have products and services to help you in your goal to create, build and deliver a growing and profitable business. We have assembled an experienced team that is ready and able to deliver their local market experience to assist in your personal and business needs. At Central Bank YOU are our most important priority. Building long-term relationships with you is our most important job. We promise to remain Focused on You!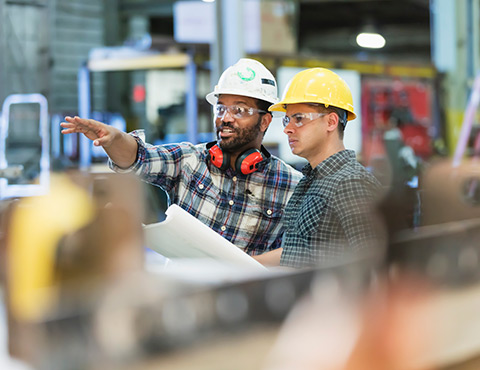 Business lending
We cover all the bases
We offer ag, construction, equipment lending and much more.