Central Connection is our Remote Deposit Capture product.
With this convenient service, you can save valuable time by depositing checks right from your office. With Central Connection you just scan your checks and the funds will be deposited swiftly into your account. It's that easy! It's not that we don't enjoy your visits, but we know that your time may be better spent growing your business.
Deposit checks from the comfort of your desk

Save time and money

Accelerate cash flow

Streamline daily business operations

Eliminate unnecessary trips to the bank

Get funds credited more quickly

Securely encrypted software
Online Wire Transfer
Utilize our online banking system to create and send wires within the United States.
Wire transfers are the fastest, most convenient way for your business to move funds quickly and securely around the country. Unlike ACH, which provides next-day transfer of funds, wire transfers provide same-day, near-immediate transfer of funds.
Send immediately available funds quickly for a purchase or other business need

Interface directly with transactions generated within your account with Central Bank

Make or receive payments

Allows for your designated employees to access and manage your companies wire transfers
Benefits at a glance:
Immediate funds availability – Funds transferred via wire are considered collected funds and are available as soon as a wire is credited to the beneficiary account. Domestic transfers arrive at their destination on the same business day they're sent. No allowance for mailing or collection time is required.

Security – Built-in safeguards, such as a personal identification number (PIN) code and callback confirmation, ensure the accurate, safe and confidential transfer of funds.

Repeating transfer options – Customers can initiate non-repetitive, semi-repetitive and repetitive wires based on payment needs. This simplifies input, saves time and reduces the potential for errors.
ACH origination and Direct Deposit Services
Reduce your administrative costs and save valuable employee time. Our Web ACH and Direct Deposit services let you make and receive payments automatically. Pay vendors and suppliers, schedule and manage payroll, make automatic debiting available to your customers and more, all while adding convenience for your customers and efficiency for your company.
Expedite all your payments

Accelerate cash flow

Reduce returned checks

Secure transactions

Pay vendors and suppliers quickly and conveniently

Transfer funds from other institutions into your Central Bank account

Deposit payroll automatically to employees' accounts with Web ACH

Reduce costly expense of paper checks

Simplify payroll process and save valuable employee time
Central Bank recognizes the ever-changing needs of small businesses. We understand that as a business owner you are important to the local community, help create jobs and make it a better place. You show that with good ideas along with hard work, innovation, and a strong work ethic- the American dream is still possible.
At Central Bank we offer a variety of business products and financing solutions that can meet the needs of your business. Our team will help you every step of the way. Whether you are a small business owner or a corporate executive, we have products and services to help you in your goal to create, build and deliver a growing and profitable business. We have assembled an experienced team that is ready and able to deliver their local market experience to assist in your personal and business needs. At Central Bank YOU are our most important priority. Building long-term relationships with you is our most important job. We promise to remain Focused on You!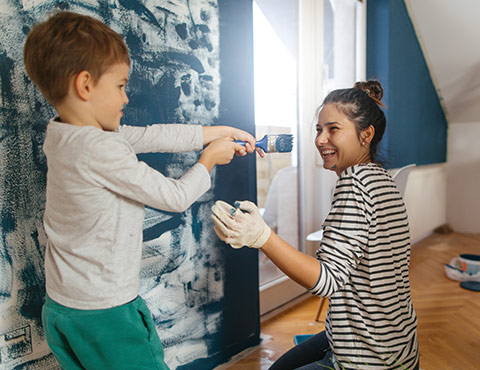 Mortgage
Let's get you moved in
We're ready when you are! Contact us today to get your mortgage loan started.